Top News
Each Of These Quadruplets Got Accepted Into Harvard And Yale
Quadruplets Zachary, Aaron, Nigel and Nick Wade have more in common than DNA: they're all friggin' brilliant. All four of them have been accepted into Harvard and Yale, among other prestigious colleges including Duke, Stanford, Johns Hopkins and Cornell  The brothers run track at Lakota East Senior High School in Liberty Township, Ohio, and discovered they'd all been accepted at Harvard and Yale while at practice. 
The quadruplets are part of 2,272 students admitted into Yale this year ― for what will be the school's largest freshman class in history ― out of 32,900 applicants. Harvard only accepted 5.2 percent of its applicants this year. 
The Wade brothers told The Washington Post that they weren't planning on the quadruple admissions.
"The outcome has shocked us," said Aaron, who was also accepted into Brown and University of Pennsylvania. "We didn't go into this thinking, 'Oh, we're going to apply to all these schools and get into all of them.' It wasn't so much about the prestige or so much about the name as it was — it was important that we each find a school where we think that we'll thrive and where we think that we'll contribute."
Their decision on which school to attend will be heavily influenced by the financial aid packages they receive. 
Black Fraternity Helps To Clean Up Mess After Spring Break Party On South Beach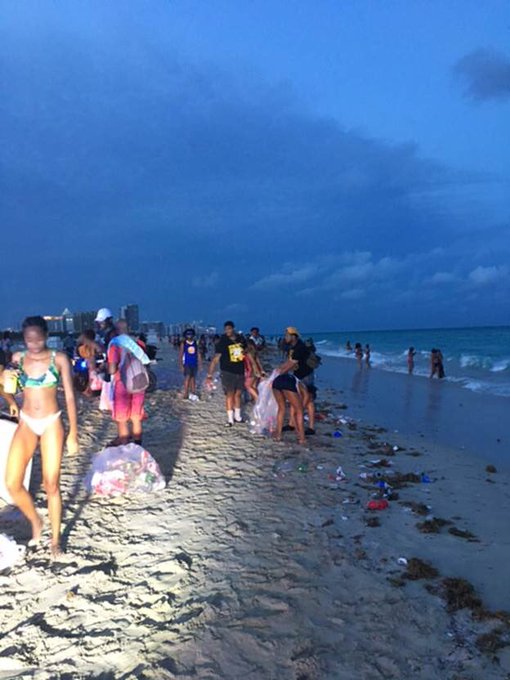 Once upon a time, a group of fraternity brothers went to South Beach to party ... then cleaned up after themselves.
When members of the Alpha Phi Alpha fraternity at Florida International University saw the mess made from their daytime spring break shenanigans on March 13, they got to work alongside the beach's maintenance crew. 
Once other beachgoers noticed the fraternity's efforts, they also began to assist in the cleanup. 
Just a day prior, spring breakers in other parts of Miami left loads of trash throughout the city's beaches. 
"It doesn't take much to pick up after yourself after partying," Jourman Triana, a member of the fraternity, told the Miami Herald. "You can have fun and also do the right thing."
But Triana said it wasn't just the group's basic morals that compelled them to help tidy up the beach. He's also careful not to perpetuate the notion of disruptive and inconsiderate spring breakers because the fraternity is historically black. 
"We want to break that stereotype," he said. 
Miami is a popular spring break destination for tons of college students, but few have been as respectful as the Alpha Phi Alpha members, which is probably why they received a statement of gratitude from the Miami Beach Police on Twitter.