Top News
Black Fraternity Helps To Clean Up Mess After Spring Break Party On South Beach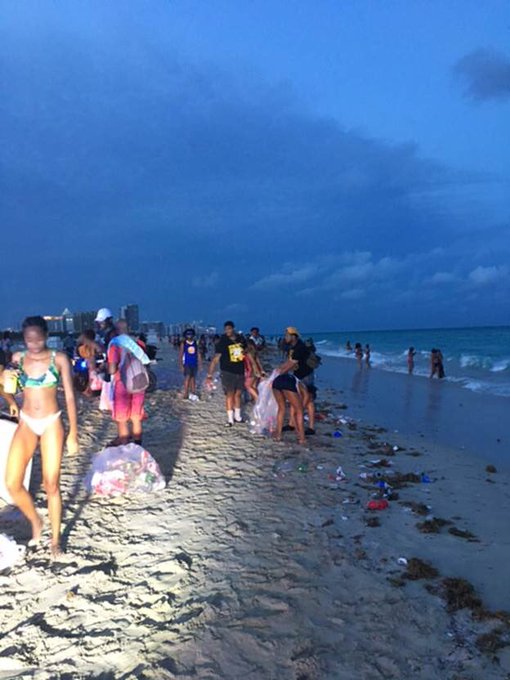 Once upon a time, a group of fraternity brothers went to South Beach to party ... then cleaned up after themselves.
When members of the Alpha Phi Alpha fraternity at Florida International University saw the mess made from their daytime spring break shenanigans on March 13, they got to work alongside the beach's maintenance crew. 
Once other beachgoers noticed the fraternity's efforts, they also began to assist in the cleanup. 
Just a day prior, spring breakers in other parts of Miami left loads of trash throughout the city's beaches. 
"It doesn't take much to pick up after yourself after partying," Jourman Triana, a member of the fraternity, told the Miami Herald. "You can have fun and also do the right thing."
But Triana said it wasn't just the group's basic morals that compelled them to help tidy up the beach. He's also careful not to perpetuate the notion of disruptive and inconsiderate spring breakers because the fraternity is historically black. 
"We want to break that stereotype," he said. 
Miami is a popular spring break destination for tons of college students, but few have been as respectful as the Alpha Phi Alpha members, which is probably why they received a statement of gratitude from the Miami Beach Police on Twitter. 
A big thank you to the @FIU spring breakers who stayed last night and helped clean up the beach! #KeepMBClean  Add new comment
Competition-winning 4th grade robotics team told to 'go back to Mexico'
A group of black and Latino fourth graders from Pleasant Run Elementary in Indianapolis won a regional robotics challenge — and were in turn taunted by lesser-ranked competitors and their parents with cries of "go back to Mexico!" The five-person Pleasant Run PantherBots, three of whom are Latino and two of whom were black, became the target of the racist bullying at both a school auditorium and parking lot at the Plainfield, Indiana, competition, the Indianapolis Star reported.
The team consists of Elijah Goodwin, 10; Angel Herrera-Sanchez, 9; Jose Verastegui, 10; Manuel Mendez, 9; and Devilyn Bolyard, 9.
"They were pointing at us and saying that 'oh my god, they are champions of the city all because they are Mexican. They are Mexican, and they are ruining our country,'" Diocelina Herrera, mother of Herrera-Sanchez, told the IndianapolisStar.
"It's not going to affect us at all," Goodwin, the team's leader, said. "I'm not surprised because I'm used to this kind of behavior ... When you have a really good team, people will treat you this way. And we do have a pretty good team."
n a statement, Plainfield Community Schools Superintendent Scott Olinger condemned the racist behavior and singled out parents who participated for particular dismay.
"The Plainfield Community School Corp. does not condone or tolerate language or behaviors that degrade others," Olinger wrote, according to the Star. "Had our organizing team been made aware of the alleged behaviors by unknown adults on Feb. 2, we would have taken immediate action."
The statement continued:
"We were pleased to host such an impressive array of young students, and we were equally proud of the teamwork, camaraderie, knowledge and fun that these children displayed. To learn now that adults may have acted in a way that distracted from the success of the day is disheartening. In the Plainfield schools, such behavior is unacceptable, regardless of whether it comes from adults or students."
While it's not clear what motivated this particular hateful attack, similar stories of racism in schools have been cropping up in recent months. According to a survey by the Southern Poverty Law Center, the bigoted campaign rhetoric of President Donald Trump and his hardline policies in office has negatively affected the K-12 school environment.
While it's not exactly clear what spurred this specific racist incident, similar events have been on the upswing in recent years.
Of the more than 10,000 teachers, counselors, administrators and other school employees who responded to the poll, 90 percent said the election had negatively affected the environment at their school.
Eight in 10 reported fears for marginalized students including "immigrants, Muslims, African-Americans and LGBT people," while four in 10 reported "derogatory language" directed at minority students.
"More than 2,500 described instances of bigotry and harassment directly related to election rhetoric," the SPLC added.
POST YOUR OPINION BELOW: 
AOL.COM
https://www.aol.com/article/news/2017/03/18/competition-winning-4th-grade-robotics-team-told-go-back-mexico/21902466/
Harvard Law Review Selects Black Woman To Head Publication
Nearly three decades after Barack Obama made history and became president of the prestigious Harvard Law Review, Susan Estrich, was recently elected to the post and made history.
Black and female, ImeIme (pronounced "Ah-MAY-may") Umana, 24, is the daughter of Nigerian immigrants. She was elected on Jan. 29 by the review's 92 student editors as the president of its 131st volume, according to news reports.But she is not the first female, Hispanic, Asian American,  openly gay, or African-American to hold the post.
"It still feels like magic that I'm here," Umana said. Fellow students said it was not magic at all but her sharp legal mind, intense work ethic, leadership ability and generosity of spirit catapulted her to the top.
She was elected president of the law review in an intense 12-hour period of deliberations that stretched over two days. The application process included a rigorous evaluation of each candidate's portfolio of work and responses to a written questionnaire, a candidate forum and a writing exercise.
She was one of 12 candidates for president, including eight minority students and eight women.
"I think our team saw in her what so many people have seen in her for so long – that she's a brilliant person, an unbelievably dedicated worker and an exceptionally caring leader," said Michael L. Zuckerman, a third-year law student and the review's previous president.
Umana said she does not aspire to work for a well-heeled law firm after she graduates, thanks to her insightful internship in the public defender's office in the Bronx this summer. Instead, she hopes to work as a public defender and will work this summer with the public defender in Washington.
Black women who have died after encounters with law enforcement are also a priority, she said. "I'm constantly reminded of people like Natasha McKenna and Tanisha Anderson and Sandra Bland, whose relationships with the law were just simply tragic."
She added, "A lot of the clients I worked with that summer and since have looked a lot like me. They are disproportionately represented on the unfortunate end of the legal system, so it struck a little closer to home."
The Harvard Law Review is often the most-cited journal of its kind and has the largest circulation of any such publication in the world. The presidency is considered a ticket to virtually any legal realm. Half of the current Supreme Court justices served on the Harvard Law Review, though none as its president.
POST YOUR OPINION BELOW: 
THENEWJOURNALANDGUIDE.COM
http://thenewjournalandguide.com/2017/03/09/harvard-law-review-selects-black-woman-to-head-publication/
Ben Carson faces backlash after referring to slaves as 'immigrants'
Ben Carson, U.S. Secretary of Housing and Urban Development (HUD), is facing backlash for referring to slaves as "immigrants," reports USA Today.
The retired neurosurgeon made the controversial comment during a speech to agency employees on Monday.
In a video of the talk, which was posted to HUD's Facebook page, he starts off by saying, "One of the things that you will notice in this department under my leadership is that there will be a very big emphasis on fairness for everybody."
He eventually talks about immigrants to the U.S., saying, "They worked not for themselves, but for their sons and their daughters, their grandsons and their granddaughters, that they might have an opportunity in this land. That's what America is about. A land of dreams and opportunity."
Carson then tells the audience, "There were other immigrants who came here in the bottom of slave ships, worked even longer, even harder for less. But they too had a dream that one day, their sons, daughters, grandsons, granddaughters...might pursue prosperity and happiness in this land."
He adds, "This is our opportunity to enhance that dream."
In response to a tweet about the story, one person wrote back, "Maybe it's just me but I don't think people who were kidnapped, chained & shipped halfway across the world are immigrants."
The Anne Frank Center for Mutual Respect also condemned the comparison, saying in a statement, "No, Secretary Carson. Slaves didn't immigrate to America. They were brought here violently, against their own will, and lived here without freedom. You do not get a pass because you are African-American..."
POST YOUR OPINION BELOW: 
AOL.COM
https://www.aol.com/article/news/2017/03/06/ben-carson-faces-backlash-referring-slaves-immigrants/21874775/
Father of slain soldier who criticized Trump says travel rights reviewed
The father of an American soldier killed in Iraq who came under criticism last year from then-candidate Donald Trump said he has canceled a speaking engagement in Toronto after being notified that his U.S. travel privileges were under review.
Khizr Khan, an American citizen born in Pakistan, had planned to speak at a luncheon in Toronto on Tuesday in a discussion about President Trump's administration, according to Ramsay Talks, a speaker series based in Toronto hosted by Bob Ramsay.
The organization said on its Facebook page on Monday that Khan, a U.S. citizen for over 30 years, was notified Sunday evening that his travel privileges were being reviewed.
Khan, in an accompanying statement, said he had not been given a reason as to why his travel privileges were being reviewed and apologized to ticket-holders for the cancellation. He declined to comment further in an email exchange with Reuters.
"This turn of events is not just of deep concern to me but to all my fellow Americans who cherish our freedom to travel abroad," Khan said in the statement included in the Facebook post. "I am grateful for your support and look forward to visiting Toronto in the near future."
It was unclear who called for the review or the grounds for it.
U.S. Customs & Border Protection said it does not contact travelers in advance of their travel out of the United States, according to an official who said any U.S. citizen with a passport may travel out of the country. CBP would not comment specifically on the Khan case, citing privacy protections.
Trump signed a revised executive order on Monday banning citizens from six Muslim-majority nations from traveling to the United States, but Pakistan is not one of those countries and the ban does not apply to U.S. citizens or legal permanent U.S. residents.
"Mr. Khan will not be traveling to Toronto on March 7th to speak about tolerance, understanding, unity and the rule of law," said Ramsay Talks, which announced guests would be refunded the ticket price of $89.
Khan and his wife, Ghazala Khan, appeared at the Democratic National Convention in support of presidential candidate Hillary Clinton and shared the story of their son, U.S. Army Captain Humayun Khan, who was killed during the Iraq war.
During his speech, he asked Trump if he had ever read the U.S. Constitution and said that he would gladly lend him his copy. He urged Trump to "look for the words liberty and equal protection of law" in the document.
Trump responded by questioning whether Clinton's aides scripted Khan's speech and questioned whether Ghazala Khan was allowed to speak.
Khan and Trump went on to exchange further criticism, dominating the presidential campaign for several days over the summer.
POST YOUR OPINION BELOW: 
AOL.COM
https://www.aol.com/article/news/2017/03/06/father-of-slain-soldier-who-criticized-trump-says-travel-rights/21874732/