The former vice president is cruising, while Sen. Bernie Sanders is in big trouble.
Former Vice President Joe Biden scored another batch of impressive primary victories on Tuesday, adding to his delegate lead and taking one more step ― maybe his final one ― toward the Democratic presidential nomination.
Biden won by a landslide in Mississippi, Missouri, and Michigan, putting on another commanding performance after his decisive wins in last week's Super Tuesday contests. A coalition of diverse voters swung heavily in his favor over Sen. Bernie Sanders of Vermont, whose campaign struggled to make up the difference with younger Americans and now faces a critical decision whether to continue his campaign.
"I want to thank Bernie Sanders and his supporters for their tireless passion. We share a common goal and together we'll defeat Donald Trump," Biden said at an event in Philadelphia, attempting a subtle pivot to the general election.
Biden is also expected to build on his delegate haul in Idaho, North Dakota, and Washington state, where polls close later on Tuesday. 
At a campaign appearance in Detroit on Monday, Biden projected party unity by rallying with Sens. Kamala Harris of California and Cory Booker of New Jersey, two former rivals for the Democratic nomination who endorsed Biden over the weekend, as well as Michigan Gov. Gretchen Whitmer.
"It takes coalitions to win. And this campaign looks like this country and it looks like this city," Whitmer said at the event, pointing to the diversity of the crowd.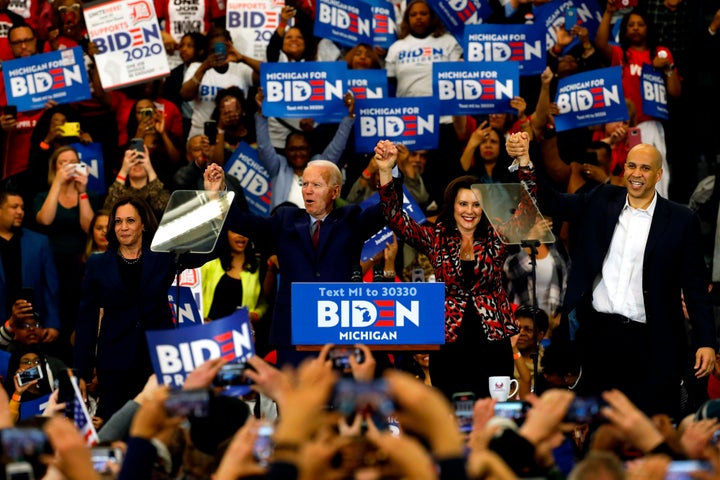 Black voters played a huge role in resuscitating Biden's campaign, which struggled early last month after disappointing finishes in Iowa and New Hampshire. The trend continued on Tuesday: Biden won 84% of Black voters in Mississippi compared to Sanders' 13%, per an early exit poll released by CNN.
Michigan, in particular, was seen as a pivotal state for Sanders' campaign. A surprise win there could have at least reversed the narrative that the race was functionally over, even if Sanders had committed to staying in until the Democratic convention. The Vermont senator upset Hillary Clinton in the Great Lakes State in the 2016 Democratic primary, so he was a known commodity there. He focused heavily on the state in the past week, holding several huge rallies in Detroit and the college town of Ann Arbor.