Watch: Black Woman Violently Arrested At Alabama Waffle House
From Starbucks to Applebee's to IHOP, getting fair customer service can sometimes be impossible when you are Black. This was the case for Canita Adams and Chikesia Clemons at a Waffle House in Saraland, Alabama.
The early morning of Sunday, April 22, 25-year-old Chikesia Clemons was arrested by white police officers. The arrest was captured on video, which is extremely graphic. Three officers slam her to the floor, expose her breasts and one officer threatens to break her arm. Watch the video below:
SEE ALSO: Calls For Starbucks Boycott After The Company's Weak Apology For A Racist Arrest
According to Canita Adams' Facebook page, the incident happened after the white woman who took their order said there would be a charge of 50 cents for plastic utensils. Allegedly, Canita and Chikesia were there the day before and there wasn't a charge for plastic utensils. They canceled their order, Canita left and Chikesia stayed behind because she wanted a business card, but the woman called the police. See the Facebook post below: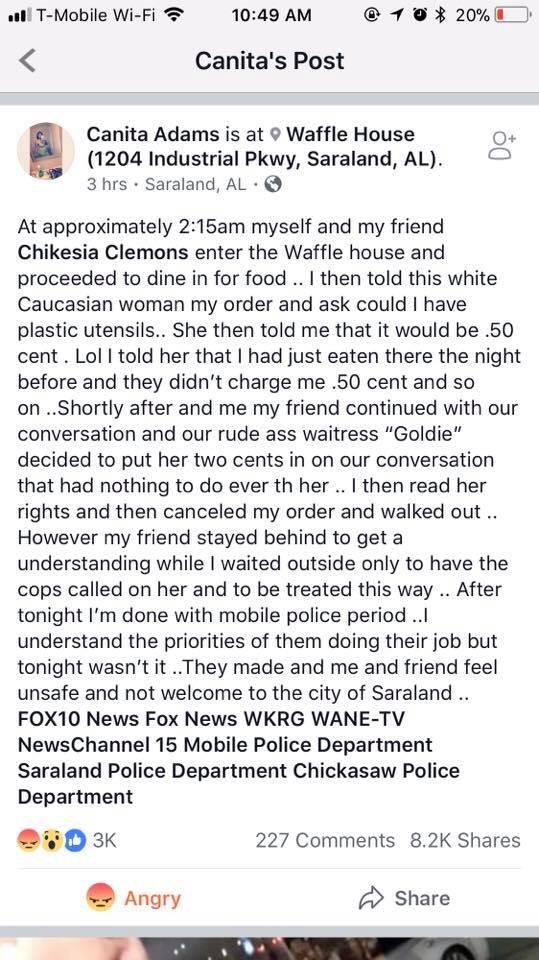 Waffle House responded to the incident by telling AL.com, "[I]t's fair to say that the information we have received at this point differs significantly from what has reportedly been attributed to Ms. Clemons and strongly supports the actions taken by the Saraland Police Department. The Saraland Police Department is conducting its own investigation and we encourage you to contact them for additional information." Yep, you read that right "strongly supports." Sounds like Waffle House might need the Starbucks treatment.
Chikesia Clemons was booked on charges of disorderly conduct and resisting arrest. She was released on $1,000 bond Sunday morning. Mobile NAACP President David Smith said in a statement, "In light of the current situation in our country — such as the arrest of two young Black men at a Philadelphia Starbucks coffee shop — we felt it was important for our members to get a first-hand account of the incident, which has now gone viral on social media locally and across the country. When incidents like this happen in our own backyard, it is incumbent upon the local NAACP to take a closer look and move the matter to whatever level is appropriate." The NAACP wi
Read more: https://newsone.com/3794767/black-woman-arrested-alabama-waffle-house/